Social media can be a powerful tool for building pride and encouraging dialogue among community members. Below is a set of guidelines and best practices developed to optimize social media efforts for and on behalf of the university as well as for personal use.
We also invite you to browse the university's Social Media Directory to see what is already happening on the U's social channels. If you are creating new social accounts on behalf of the university, please advise our social media manager so you can be added to the directory. Please also reach out if you have questions about these guidelines or if you discover inappropriate behavior on a University of Utah-managed social media accounts.
Requirements for official U accounts
---
Accounts should be marked "official" in some way, where appropriate (for example, in a Twitter bio or in the Facebook "about" section) and follow the university's brand guidelines.
Where appropriate, guidelines should be posted that make clear expectations of community members and its site managers.
Sample Terms and Conditions language
Accounts should be monitored (and moderated, where appropriate) to ensure the community is following the unit-developed site and comments guidelines.
All social accounts should meet University Information Technology's (UIT) security best practices. It is very important to control the administration of organizational social media account, keeping the number of administrative publishers to a minimum and having rules in place for managing login credentials. Don't share your social media passwords around the workplace or classroom.
University accounts should not host advertising. On third-party social media platforms, if ads can be turned off on university pages, they should be.
All official university entity accounts must be managed by an employee of the university or an agency expressly contracted by a university entity.
Best practices for institutional accounts
---
Be confidential. Be careful not to reveal confidential or proprietary information about U students, employees, or alumni. Adhere to all applicable university, federal, and NCAA privacy and confidentiality policies. All employees at the U are subject to FERPA, HIPAA, and other laws mandating the nondisclosure of personal information.
Protect property. Follow copyright, fair use, and intellectual property rights. In some cases, content posted to a social media site becomes the property of the platform operator.
Protect the U's name and logo. The U's logo cannot be modified or used for personal endorsements, and the trademarked University of Utah name cannot be used to promote a product, business, cause, political party, or candidate. Please visit the university's brand guide.
Always show respect. Refrain from publishing content that contains slurs, personal insults or attacks, profanity, or obscenity. Avoid any conduct on a social media site that would not be acceptable in University of Utah workplaces or classrooms. When maintaining or contributing to university-managed social media properties, we should follow the same standards of nondiscrimination and social conduct as outlined by the U's Office of Equal Opportunity and Affirmative Action. We should also expect the same of our visitors to the university's social media outlets.
Stay accurate. Get the facts straight before posting them on social media sites. When possible, link back to the original source. Review content for grammatical and spelling mistakes. If you make an error, correct it quickly.
Remain transparent. Be honest about your identity. Because no individual departmental social media site represents all of the university, clearly link pages, account names, images, and content to a particular department or unit.
Be safe. Be cautious of "phishers." Phishing is the attempt to gain control of a personal or institutional social media site by deceiving a user into revealing the account's username and password. Monitor your social media sites carefully to ensure you notice quickly if an unauthorized person gains access—the larger your audience, the more tempting your site becomes as a target. Help keep your social media accounts safe by reviewing UIT's security tips.
Connect thoughtfully. Connecting to other social media members and sites builds credibility and community but could also give the unintended impression that your site endorses a certain cause, group, or person. Consider carefully whom you "friend," "follow," link to, or allow into your site and to what extent you will allow comments. Help the U community stay connected by linking back to the U's homepage and other university social media sites. When possible, link to a U news source instead of an outside source.
Engage in conversations carefully. Social media sites are designed for two-way communication, and content contributed to a social media site may encourage comments or discussion of opposing ideas. If you are unsure about posting something or responding to a comment, ask your supervisor. You may remove comments libelous or offensive by standards of the U community, but do not censor posts with which you personally disagree. Also, avoid criticizing other people and institutions. Doing so may alienate your audience, reflect poorly on the U, or escalate into a conflict.
Post user-friendly links. It's encouraged to link to University of Utah websites, online giving pages, etc., from university-managed social media sites. However, don't link to password-protected University of Utah services from third-party social media properties. If you wish to direct someone to a service, link to a university-owned webpage that then directs visitors to the password-protected site. For example, "To access this service, visit [department home page] and log in to CIS."
Adhere to web accessibility best practices. U social accounts should provide content that is usable and understandable by as many people as possible. For example, you should describe images when possible and include video captions, provide contact information on the social account page, and spell out acronyms. See the following links for more tips to make your content accessible
University Social Media Icons
Block U with an identifying word below. The preferred font for these icons is Myriad Pro Bold Condensed.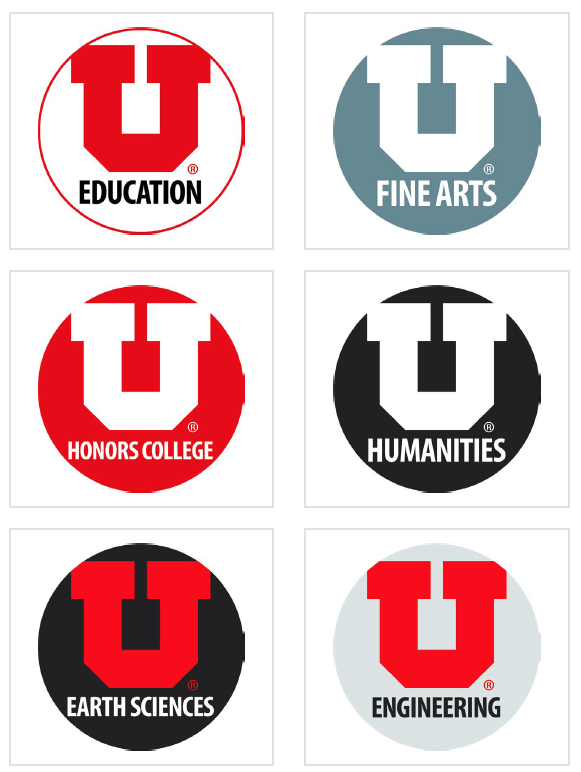 Best practices for managing personal accounts
---
Think before posting. Privacy does not exist in social media. Public posts are indexed in search engines, and private comments can be forwarded or copied and easily made available to the public. Use privacy settings to restrict personal information on otherwise public accounts, but be aware of the limited protection this provides. Remember that what you post on your personal page could haunt you professionally. To better understand the U's stance on freedom of expression, visit the Academic Affair's academic freedom guide.
Be authentic. Be honest about your identity and don't misrepresent another person. If you identify yourself as U faculty or staff in a personal post, also make clear that your views are your own that that you are not formally representing the university. A common practice among individuals who write about the industry in which they work is to include a disclaimer on their site, usually on their "About Me" page. This is particularly important if you are a department head or administrator. If you discuss higher education on your own social media site, include a sentence similar to this:
The views expressed here are mine alone and do not necessarily reflect the views of the University of Utah.
Take the high ground. If you identify your affiliation with the U in your comments, readers will associate you with the university, even with the disclaimer that your views are your own. Remember that you're most likely to build a high-quality following if you discuss ideas and situations civilly.
Be a valued member. If you join an online social group, make sure you are contributing valuable insights. Don't post information about topics like U events or a book you've authored unless you are sure it will be of interest to readers. Self-promoting behavior is viewed negatively and can lead to you being banned from websites or groups.
Protect your identity. While you want to be honest about yourself, don't provide personal information that scam artists or identity thieves could use against you. Don't list your home address, telephone number, or email address. Be aware of "phishers" or those who might try to hack your account, and reset your password in the event of a breach. Always log out of your account when using public computers. Help keep your personal social media accounts safe by reviewing UIT's security tips.
Protect the brand. The U logo cannot be modified or used for personal endorsements, and the University of Utah name cannot be used to promote a product, cause, political party, or candidate.
Get Started
Partner with UMC
Need help to design or strategize your next project?